[i] THE GRANDSTANDS WILL BE ROCKING ON SATURDAY NIGHT, FEB. 7 IN INVERNESS!!![/i]
Take a look at this video, shot on February 9, 2008 at the legendary 3/8 mile paved oval of Citrus County Speedway in Inverness, Florida, and notice the FANS packed into the grandstands!!!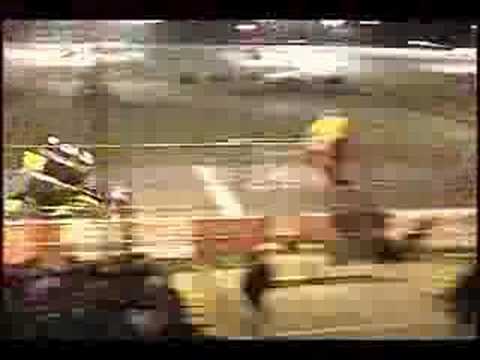 It's now one year later… and the ground-shaking winged sprint cars of the TBARA will once again open their season at Citrus County Speedway, on February 7, 2009. But this year, Florida's "smallest" traveling series, the "Thundering Herd" of the Desoto Champ Kart Series are also appear on the card, to kick off their 2009 Season!
Many-time USAC National Champion Dave "Superman" Steele, two-time defending TBARA Winged Sprint Car Champion Troy Decaire , TBARA 2008 ROY Blaze Martin (driving for HEAT RACING owners Robin and Gary Green) and the Desoto Champ Kart Series … it's going to be an entertaining night for race fans of all ages!

Citrus County Speedway is one of Florida?s oldest short tracks. The track is located next to the Citrus County Fairgrounds on U.S. 41, 2 miles south of Inverness. The track website is: http://www.citruscountyspeedway.com
This race marks the second year that karting will be featured on the Saturday night card at Citrus County Speedway, under the lights! ln 2009, the track has booked five dates with the Desoto Champ Kart Series! On April 18, the series will return to Citrus County Speedway for Race #1 of the popular 3rd Annual Florida Triple Crown Series (4 races at 4 different stock car tracks, with 1 drop allowed), with 25-30 entries expected.
Even if you don't own a champ kart, don't know anyone, or are alone, please feel welcomed to join the Desoto Champ Kart Series drivers and crew in the pits! This is one of the friendliest group of racers anywhere. After the champ kart feature on Feb. 7 is finished, you can stay and watch some of the country's best sprint car drivers do battle, at no additional cost! Your $25 pit pass will grant you unrestricted access to both the main grandstands, and pit area!
Last year's DCKS race at Citrus County Speedway was one for the ages… as the leader had an engine failure on the last lap, and stopped just two feet from the start/finish line!

Chase Fitzgerald passed him off the final turn, and took the checkered flag! Second was Ron Sanford, and third was Tara "The Terror" Henderson (24 Entries).
You can get an in-kart view of last years race at the following link (courtesy of 5-time Series Winner Romay Venta!): CHAMP KARTS AT CITRUS COUNTY 7-26-08 FEATURE RACE (HELMET CAM) #13 - YouTube
In 2008, eighty-one different drivers raced at least one Desoto Champ Kart Series event! The highest field of the year had 35 entries, while five other races had 24 or more entries! And, even though the economy impacted all of Florida's racing, the Desoto Champ Kart Series was one of the few racing series that continued to grow during 2008.
A fan video of a champ kart race at DSS (August 16) can be viewed at the following link: Don MacCalla Mem - YouTube
Series website: http://www.DesotoChampKartSeries.com
Stars: Think this is just a "go kart" series…?? In 2008, 2-time Defending TBARA Sprint Car Series champion Troy Decaire participated twice (finishing second and third), along with 2008 FASCAR Advanced Auto Parts Pro Truck 2nd Place points finisher Barry Bartlett (finished seventh), 2008 DSS Late Model Points Champion Dustin Chisholm (WIN), 2008 DSS Late Model Feature Winner Raymond Folwell, and ASA and United Dirt Late Model Challenge Series driver JR "The Machine" Garcia (finished seventh)!
And, 2008 DSS Late Model Points Champion Dustin Chisholm has already confirmed that he will be IN THE HOUSE at Citrus County Speedway on Feb. 7, attempting to claim his third career DCKS win! And noone will be surprised if one of Dustin's good friends also attempts to pick up a champ kart ride for this event… (hint: He's the 2-time Defending TBARA Champion!)
For 2009, two more car racers have already announced their plans to run some races with the Desoto Champ Kart Series!
Former Open Wheel Modified Standout Timmy Moore of Clearwater has already purchased a champ kart, and will be making his debut at the Feb. 21 series stop at Desoto Super Speedway.
Also, Steven Darvalics, who won the 2008 Charity Truckers 200 in Orlando Speedworld recently announced he will racing a champ kart in 2009 with the series! Look for Steven to make his debut in the coming races!
Purse/Payout:
This series races for cash payouts at every event (for at least the top five drivers), along with trophies and contingency prizes. In addition, a year-end points fund is maintained. In 2008, the series awarded over $3,000 in prizes and contingencies from it's year-end points funds!
And, the series will end the 2009 season with a bang! Both the Friday night (Dec. 4) and Saturday night (Dec. 5) shows at Orlando Speedworld will pay a guaranteed $500 Cash to the winner (no minimum entries required)! So, if the same driver collects both wins, he/she will collect $1,000!

2009 Series Sponsors:
VEGA Tires from http://www.TSRacing.com,
Cutting Edge Kart Shop at http://www.cuttingedgekartshop.com
COMPETITION Karting, Inc. in Welcome, NC,
Moon Power South, Donnie Lewis at 386-938-2434 ,
TS Racing Engines at http://www.TSRacing.com,
HEAT RACING of Brandon, Florida,
J. Hite Exterminating at http://www.hiteexterminating.com,
PBS Sales and Service of Tampa at http://www.pbssalesandservice.com,
5 STAR MOTORSPORTS at http://www.5starmotorsports.net[/QUOTE],
TERROR GRAFIX at
www.myspace.com/terrorgrafix (click on 'Pics')
The Desoto Champ Kart Series - The series which proves that "size doesn't matter!"

Regardless of where you live, please support your local race tracks!