http://www.ascsracing.com/ASCS Rebel Region Season Championship Finale
Saturday - Tampa, FL (6:30 p.m.)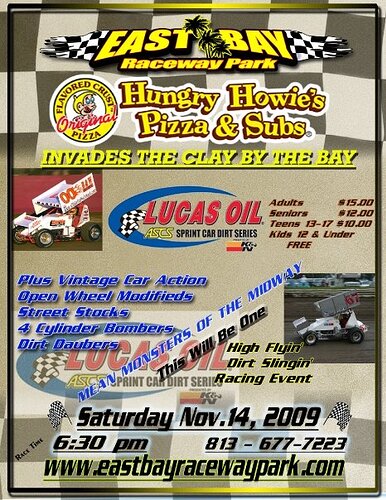 I'll be there to watch Danny Martin jr, anyone one else going?
sprint car race
tonights sprint car race was great they had a not so great car count with 18 cars butt the BONEHEAD of the race had to be (GENE LASKER #02) gene had 3rd in the bag with two laps to go he was not able to get around a lap car so he putt them both in the wall hard not sure the name of the winner but is was a good race.:mad:
Tyjer Godwin, saw that too ,Lasker hit 00 lap 2 about wrecked him.
I was there, that was a crazy move wasn't it?
Also don't know if any one saw him but Danny ?The Dude? Lasoski was there last night watching the race. He walked by with his wife/girlfriend and we made eye contact…Danny not the girl :mad: Anyway, I thought "He looks like The Due". So we got a kid around us to go up and ask if it was him and sure enough it was him.
No did not see him ,did not go in pits but spoke to Steve Dorer, alway really nice and David Pollen who races both pavement and dirt. have to meet you if you attend race in 2 weeks. Buzzie and David will race.