I am looking for a bomber roller or street stock or anything that can be made into either one
I have the old 89 streetstock from Adale, everything is there but motor and trans. And when I say everything thats down to the radiator hose and fan belts $1500, and I can bring it to you. Thanks Ted,863-289-1339
i have a camaro i will sell as roller all but motor i will give u the tranni to .1200
Do you still have this car? what is it? I need a car for renegade or SS8 up here in NC.
Street stock car
I have a front running streetstock from Auburndale speedway 2st in points right now This is a RaceReady Car have a sbc 350 engine racing seat belts racing tach water temp oil temp oil psi racing shifters 22 gal fuel cell 373 ring gear new pipe New tires are on there right now on 9/11/10 Asking price is 7,000 cash…Car is Still Racing right now at auburndale speedway please call jeff at 863 605 6706
Check my ad under asphalt cars Street/Pure Stock. I will remove the motor and trans to sell as a roller. The price is negotiable depending on what you want left in the car.
Call me @ 727-410-5448 Randy Spicer
i have a metric roller was run a nsw 700 obo
ive got a metric car 500 385 624 2335
streetstock rollor
I also have a rollor streetstock needs engine trans and a new body put on it but other then that every thing is there Im asking 1,000 take it home with u
i got a asphlat super stock roller minus motor and trans with a nice body for 2000
My points winning V8 bomber is for sale.
edrool has one on the asphalt sectin good car
street stock
i have a street stock comaro roller just need to be finsh $800 or best offer
352-628-3463 or 352-220-29 ask for eddie:)
well built super stock roller for $800 cant beat it
here a car
900 for a car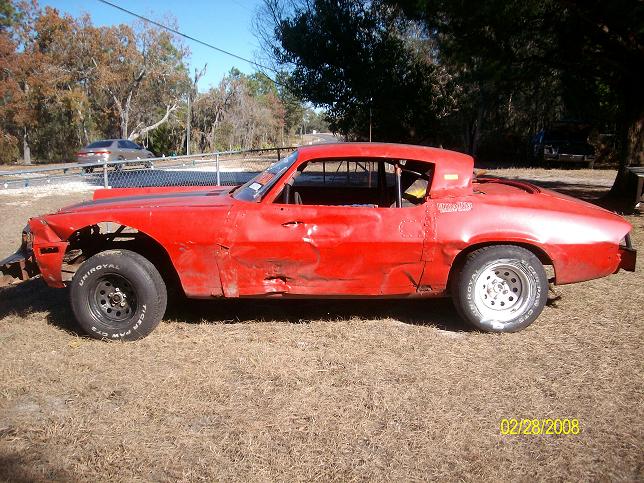 Have 87 Camaro Available Started To Gut Interior And Removed Gas Tank But Quick Racing. It Has A Blown V6 And A T-5 Tranny Don't Know Anything About The Motor But Was Going To Install 350 Anyway. This Car Has No Rust, Rolls And Ready To Be Built Asking
$500.
Car Located In Ormond Beach Call Cell 386-405-9595 If Interested Or To See The Car. Pics Available Soon!
I have a 1986 monte carlo roller, all you need is a motor, tranny and shocks. Car has never been raced, asking $1,300.00 or OBO. Call me, my name is Cliff 863-606-4316
I have a v-8 bomber, set up for auburndale, car is complete with motor, tranny, add your paint and harness and go racing 800 dollars 7277684217