Some outstanding shots right there… especially like the Detjens 25 Purple Challenger. That's one sweet looking LM
Early to mid-80's Super Lates, and original ASA machines, good to see them again.
31–Billy Harvey
72–Junior Hanley
75–Captain Sizzle, Mark Malcuit
36–Joe Shear
25–Larry Detjens
2—Mark Martin
That blue #75 is actually Mark's son, Marcus.
The Malcuits are still active building motors.
Mark is no longer racing oval track. From what I understand, he was involved in a traffic accident a few years back, requiring that his neck be "fused". Since he couldn't turn his head like he used to, he gave up the stock-car stuff, and built a 9-second street-legal Camaro to go drag-racing.
Post up some more pics of the wildest creations (Late Models only, please

) that you've ever seen.
Cool Ford Fairmont:
Neil Bonnett/Dillon "Cam-stang": This car had a Camaro nosepiece and a "Mustang" roof (much like Red Farmer's asphalt Late Model of the same era). This car caused some controversy in All-Pro and at the All-American 400.
Yet another Junior Hanley creation:
Same Hanley car as above, different (and closer-up) angle:
One of my all-time heroes…
How come the rest of y'all ain't postin'…?? LOLOLOL
A couple more shots of the Balough/Hanley/Rossi machine at New Smyrna, 1981. Look at the air box on the nose of this thing:
Trickle's lookin' at Balough like, "What the hell…?!"…LOLOL

https://fbcdn-sphotos-a.akamaihd.net/hphotos-ak-ash3/576188_256017334496180_100002637461512_497604_346035032_n.jpg
Mike Eddy's Howe machine, tryin' to keep up with Balough and Hanley:
Check out how high the rear deck is on this thing:
OK, some Florida cars:
Larry Moyer's clear-Lexan-bodied car, at DeSoto I believe (at least it looks like Bradenton's pits).

Trickie Dickie in the Citrus Dodge "Chrysler LeBaron".

Our car, 1981, Golden Gate, with Jim Childers

Dave Pletcher at St. Pete with the Mitton Electric #21

LeRoy Porter at the 1985 Florida Triple Crown, DeSoto Speedway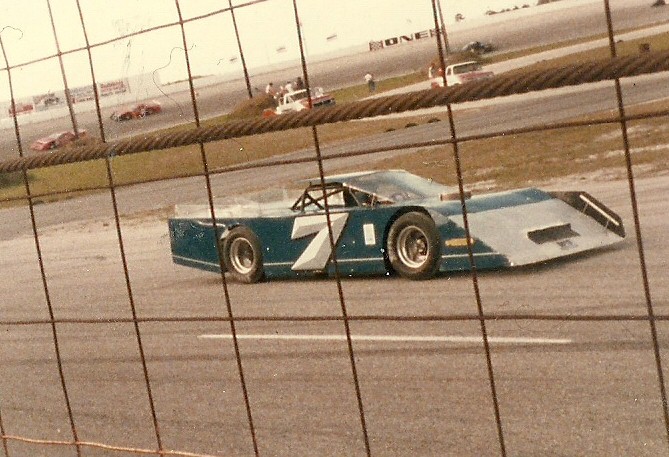 Been told that this one is Skip Valdez at Palm Beach, sometime in the late '70s. Pretty cool car, actually; don't recall many - if any - '67-'68 Barracudas that ran as full-blown Late Models, especially this late. That's Bobby Brack's Camaro on the far left:
Bobby Allison makes a Palm Beach appearance in Larry Rogero's #17, with Rahilly-Grady power:
Al Kuhn in an ex-Hanley car. That "wedge" thing on the left side? All lead - for left-side weight:
Another one that drove for us at Palm Beach, Hialeah, Tampa, and St. Pete: Chargin' Charlie Reagan (the senior) (although, this ain't our car):
How 'bout a full-fendered Gremlin "Late Model"/Sportman? I think this one was a 6-cylinder:
These are great. Thank you Jimmy for sharing then. Very cool!
This is one of the coolest threads I have ever seen on here.

Keep the pictures comming!