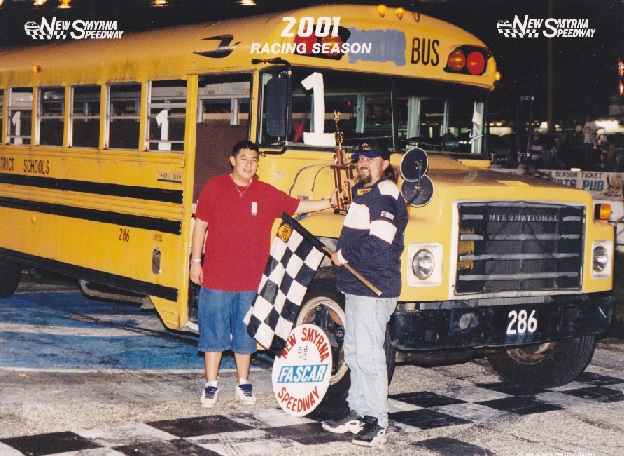 Aw hell, I remember this one. Had a front-row seat to some of the wildest bus racing on an oval to be seen at the innaugural bus race there. The carnage from Karnac, you were called…
I lapped the entire field of I believe 20 buses except one.
Yep, this was on September 22nd, 2001 and it was pretty close at the end. Here are some pics and a small video from that evening. We didn't have much of a digital camera back then, but at least we got some shots for the web site… I hope the video works.
Look at that smile…
Ok, where's the fan switch?
Label 1 in the bus.
Label 2 in the bus.
Busses in the back field.
More pics coming…
NSS Bus Race Images, Continued:
Bus #1 was reserved for the man…
Well, the bus had a broom in it, so we might as well sweep it out. Rick is suited up and ready to go.
Lined up and waiting for the green flag.
The winner!
A pic of the Karnac - Carnage I mentioned. There were 'cut down' tires, bent suspensions and school bus parts flying all over the track. What a race!
Next is the video…
NSS Bus Race Image, Continued - Finish Line Video
http://www.andersons-originals.com/nss/nss10-takingcheckers.mov
A not-so-good video of the checkers flying (ya gotta look closely) as Rick takes the win with the only other bus with a chance of winning, chewing on him at the end. For a better view, I downloaded the file to my desktop and watched it using windows Media Player. The image can be stretched to full screen if you wish.
Ah, the memories…
Wow thanks for memories Hans!!!