Boyd takes first leg of Desoto Triple Crown
http://www.desotospeedway.net/news/?i=34302&clk=featureNews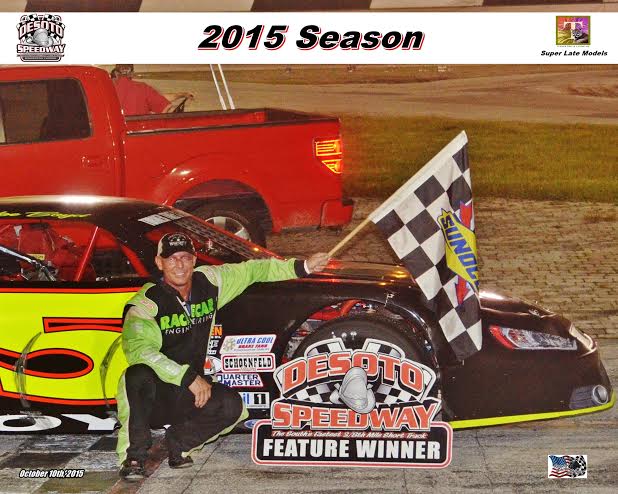 Congrats to Joe and his whole Team!!!
[B][I][SIZE="4"]Congrats to Joe and his whole Team!!!
opied from Linda Story on Facebook…
Boyd takes first leg of Desoto Triple Crown
Joe Boyd took his first win in over a year and a half at Desoto Speedway on Saturday night, taking a dominating flag-to-flag victory in the first race of the Turner Tree and Landscape Super Late Model Triple Crown Series 100-lap feature event.
Front row starters Richie Anderson and Tyler Scofield got together on the opening lap, allowing Joe Boyd to go from third to first by the time the field came out of turn four. Boyd set sail while Mike Franklin, Michael Atwell and points leader Dylan Bigley battled for the second spot. Atwell tapped Franklin in turn one on lap 17, spinning Franklin and bringing out the caution. Atwell was sent to the rear of the field.
Bigley and D.J. Hoelzle got by Franklin on the restart and spent the next 25 laps chasing Boyd around the 3/8-mile oval. Boyd was starting to lap theback of the field when the caution flew for Martin Maresca's spin on lap 42. On the restart, Atwell crashed nearly head-on into the turn three wall. The incident brought out a red flag for a lengthy cleanup, but Atwell ? whose title hopes came to an end as a result of the accident - was uninjured.
Boyd fought off a challenge from Bigley on the restart and led a four-car freight train with Bigley, Hoelzle and Scofield in tow. Boyd was starting to stretch his lead when the caution flew for Ashley Rogero's spin after contact from Anderson with 21 laps to go.
Bigley couldn't capitalize on two restarts in the final 20 laps as Boyd
went on to his first win at Desoto Speedway since taking the 2014
Icebreaker 100. It was the final points-paying event for the 2015 regular season.
"Dylan and I bumped a little but it wasn't anything out of the ordinary, "Boyd said. "I think we can win another one of these triple crown races, but we've got to work on our late-race setup a little bit."
With his second place finish, Bigley - driving his father Bill Bigley Jr.'s car after his own car suffered a mechanical failure during practice - claimed the 2015 track late model championship. Bigley didn't win a feature but used a pile of consistent top-five finishes to win a title he dedicated to his late grandfather.
"It's just amazing and I can't put it into words what this means," Bigley said. "My grandfather passed away earlier this year and without him, I wouldn't be doing this. Hoelzle, Danny Foster and Rogero rounded out the top five.
Desoto will host the next leg of the Late Model Triple Crown Series on November 21.
The Mini Stocks were also on hand for a 40-lap feature - their longest race of the season. Outside polesitter Ren Wright Jr. got the jump on Jimmie Best on the start and would set the pace for the first several laps. Michael Hart went from sixth to third on the opening lap and was in a battle with Ronnie Robinson for the spot when Robinson got loose and spun to bring out the caution on lap 15.
Best had a slow restart, allowing Wright to pull away and triggering a
seven-car battle for second spot. Best eventually got the spot back, while Robinson quickly worked his way back up to fourth after a three-wide pass of Ryan Walters and Zac Graham.
A caution for George Ingram's stalled car erased Wright's big lead on lap 23. Wright got the jump on Best and Robinson on the ensuing restart, and Robinson got by Best for second just prior to another caution for a spin with 10 laps to go.
Wright got the advantage over Robinson on the restart, but Robinson
wouldn't let Wright out of his sights over the closing laps. As the leaders took the white flag Robinson dove underneath Wright and completed the pass going into turn three on the final lap.
Robinson led just the final 300 yards of the race and took the checkered flag just ahead of Wright. "Ren's car was really fast and I wasn't sure I'd be able to get around
him," Robinson said. "I may have used him up a little bit on that last lap.
It took us a few weeks to get back up to the top spot and this feels really good." "Racing with Ronnie is always great and he always races you clean," Wright said. Hart, Roger Wright and Best rounded out the top five.
In other action Saturday night, Danny Caylor found himself in the winner's circle after Tyler Lau's suddenly slowed on the final lap of the 25-lap Take Aim Gun Range Street Stocks feature; and Kenny Gibson won his fourth consecutive bomber feature.
Winged Sprint Cars, Desoto Pro Trucks, Street Stocks, Pure Stocks and
Modified Minis will all be in action next Saturday night at Desoto Speedway.
10-10- 2015
DESOTO SPEEDWAY RACE RESULTS
Super Late Model
5 Joe Boyd Riverview
28 Dylan Bigley Naples
8 D.J. Hoezle Palm Harbor
99 Danny Foster Sarasota
17r Asley Rogero Mooresville
07 Tyler Scofield Plant City
51a Richie Anderson N. Ft. Myers
112 Stephan Weaver Plantation
36 Chad Chastain Alva
128 Billy Bigley Naples
12d Mike Franklin Homestead
51 Michael Atwell Naples
14 Martin Maresca Ft. Lauderdale
Street Stock
7 Danny Caylor Lehigh
93 Jeff Firestine Bradenton
11 Travis Barfield Myakka City
45 Mike Karrivan Bradenton
69 Keith Neff Bradenton
20 Claudio Reyes
3 Duane Best Myakka
27 Tyler Lau Bradenton
Bombers
23 Kenny Gibson Venice
22 Randy Spicer New Port Richey
7 Colleen Whitesell Bradenton
9 Garrett Thompson Bradenton
39 Jeff Firestine Venice DQed
Mini Stock
05 Ronnie Robinson Bradenton
008 Ren Wright Jr. St. Pete
99h Michael Hart St Pete
48 Roger Wright St. Pete
67 Jimmie Best Sarasota
99 Johnny Marra Punta Gorda
07 Ryan Walters Clearwater
3 Sherry Best Myakka
131 George Ingram Clearwater
9 Meagan Hirschy Port Charlotte
4 Zach Graham Seminole
37 Jerry Groves Venice
01 Christopher Milthaler North Port
[/SIZE][/I][/B]
OMG??? that's what the link is for.
Don't stop him, he's on a roll!!!
Sorry "OMG"Old School hate facebook…
[SIZE="5"]Sorry "OMG"Old School hate facebook… But GREAT STORY.[/SIZE]


desoto thoughts
Low Car count, with A-dale running.
Desoto organization on the pit side, seems to need a little work.
Tow truck drivers, way to slow on clean up of atwells car. looked like they had no clue as to what they were doing. I always wonder how much additional damage can be done to a car, just towing it in?
Boyd had field covered. (4-5 major players were not there)
Surprised Duttilly was at A-dale and not Desoto? $$?
Richie Anderson drove over and into about every car on the track. Was surprised and impressed on the lack of retaliation of tyler schofield after Anderson drove him super dirty on the start.
Bigley had a good run, to clinch the championship.
Re-start box continues to be an advantage to the second place car, the rule needs to be changed. I like how the Pass series does there re-starts.
Just my 2 cents- Vince
I thought it was one of Bobby's better posts, actually…