What was it and was it built or bought?
1957 Chevy
In 1966 at the tender age of 17, I cook my street car off the road and made a Late Model Sportsman race car out of it. Jack Stadig out of Sanford put the cage in it and I built the rest with some help from my father. We ran that car at DeLand Raceway in the fall of 1966, just before i turned 18.
My brother and I built a Monte Carlo in 1981. Although I like working on racecars, I never attempted another from the ground up (except for enduros, etc…) because I didn't like all the fabrication work. Since then, I have always bought used ones.
Actually built 2 cars at the same time for 2 different race tracks. A 56 Ford w/292 for the 1/5th mile paved oval track that had pretty restrictive rules. And a 57 Chevy w/327 for the less restrictive 1/4 mile paved oval track. The tracks were within 4 miles of each other on opposite sides of the same highway.
My first was a 1966 Pontiac Le Mans street stock , with a 326 and a 3 speed. It had been sitting in a junk yard for years and I bought it for $300 in 1979. I was told it had been raced by a guy named Buster Peterson.
Kind of interesting so far
So far mainly everybody built the first one me included.My first racecar was a 1964 Chevy Biscayne two door sedan which I quickly installed the number 0 on the side of and painted blue and nicknamed super bluebird in reference to Bob Senneker's #84 bluebird.In 1978 for Columbus Motor Speedways " Big Bomber" Division. 327 cubic inch corvette powered with a three speed and absolutely not enough gearing to get off the corners.The first of two cars I built but drove several others for somebody else they had bought.
Ford pinto. Built (kinda). OSW 1991 4 cyl enduro. Then bought the next 3 hobby and street stock. Built a sportsman and another street stock (never do it again). Gave it up in 04 and became a spectator. Much cheaper.
The first racecar of my own, I bought from a guy in Adel Georgia, Slyder Guthrie, in 1994, shocker he was a dirt guy. It was a 78 Camaro Thunder and Lightning car for Thunderbowl speedway in Valdosta Georgia. Stock steel body car, with 60 series street tires and more motor than you could possibly hook up. Ran that car for 4 seasons before I started building all my own cars. Love building new cars.
Patrick Thomas 111
My first car was converted from a movie car into a race car from the locally filmed movie Jump. My Dad did the work while I served Uncle Sam in 1971. It was a big block Late Model with coils in the rear. At the time every body used 55-57 frames with leafs. Unfortunately he died 6 weeks later. It was a handful for me not knowing much at all and 19 years old. A year later we bought an existing car with 57 frame and it was an easier learning curve. I raced 10 years and every other car, we built from scratch. If I could do it over I would have bought a Tornado to start with and worked to get to Late Models.
For those who have built your own car back in the day and for those today you proved that you do not have to spend 1000's to have fun. The money spent has gotten out of hand.
At the tender age of 32, I had a cage put in a 79' Crown Vic highway patrol model. Had only watched maybe 5 races before I plunged into the Orlando Speedworld runabout class. At least 40 cars on track at the same time for my first 5 or 6 races!
Pics or it never happened:D

ok
[CENTER[/CENTER][QUOTE=Lurkin;173124]Pics or it never happened:D[/QUOTE]
Can you get the little sign holding guys to crawl through the phone and show me how to post one?
ok
[CENTER[/CENTER][QUOTE=Lurkin;173124]Pics or it never happened:D[/QUOTE]
Can you get the little sign holding guys to crawl through the phone and show me how to post one?
Pics???
Lurkin, there has been a pic of myself and the 57 Chevy on this site for about 20 years. It is in the history section of Karnac. Coxen Collection. My Dad and I saw Kenny Alderman's first car at Golden Gate back in the day. Donnie Williams and I raced against Pactrick Thomas' first car at NSS. Go to Boneman's site and you can see all of his cars.
In 1999 I was helping sponsor a Late Model at Ocala Speedway for R & R Racing team. 3 cars with numbers 76, 86, and 96. One Saturday they let me do a few laps and I was hooked. Bought a figure 8 car and we fixed it up to race sportsman. An 85 Monti that was 168 lbs overweight with no lead. In '03 bought a new car built by Rich Pratt at Hooked on Racing. Raced it till '06 and bought John Smiths sportsman. A former late model owned by Dick Anderson in the 90's. Totaled it in 2011 at Columbia park (Ellisville) when the rf wheel hub broke out going into turn one. Pulled the engine, tranny, and seat for a roller Pfletcher OWM and raced E Mod around NSS and Ellisville, and sometimes Bronson. This will start my 6th year with it.
R & R racing gave me the team number 76. Sold my first two cars and they were converted to dirt.
-JIM-
What year??
I built a 55 chevy with a 6 banger in about 1969 I think. Built it with no help.
took it to saramana speedway the first night and in the first lap I was hooked for life.
Bomber class. a driver on this board in his first race got me on the 2 lap. Had to start over but it was the greatest lap of my life.
Had $50 in the car and the engine came out of my street ride. Road the Harley to work after that.
My dreames came true…
Life is great
Don62
8 years before the Monte Carlo, "my first car" was made from a scrap orange crate, the type that could be found in any Miami dump or on any trash pile, and some junk lawnmower tires. My dad welded up a steering wheel for this one, thereby rendering it the coolest push-car I had ever seen.
This was the start of our one lap race during intermission at Florida City Speedway, 1973.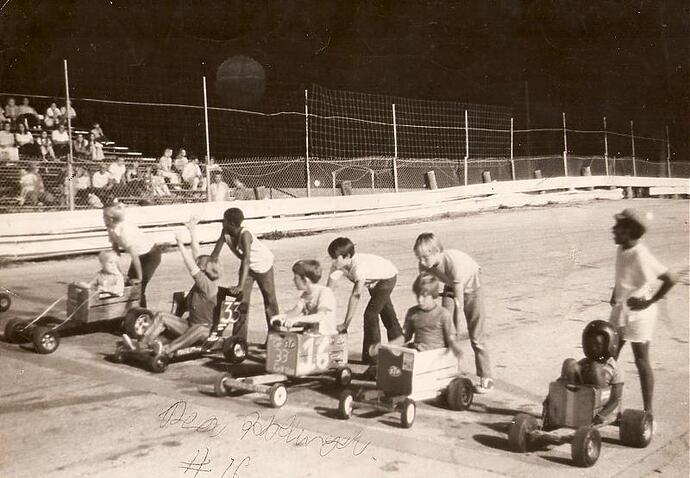 I was looking to see which one was you… couldn't figure it out until I remember you always saying " I have never raced without a helmet "… right there was the answer to my question… and an inside spot to boot… OSF
You busted me fair and square. It is pretty obvious that I have the same skin lightening disorder as Michael Jackson.