Rogers, Choquette and Dorer all made the field Unofficially. Tech is upcoming.
UNOFFICIAL TOP 30 FOR THE SNOWBALL DERBY, DECEMBER 2, 2012
#77

David Ragen 16.485

#8

John Hunter Nemechek

#41R

T.J. Reaid

#51

Kyle Busch

#9

Chase Elliott

#4

Jermey Pate

#26

Bubba Pollard

#98

Daniel Hemric

#4J

Erik Jones

#51N

Stephen Nasse

#0

Brad Rogers

#22

Hunter Robbins

#49

Augie Grill

#29C

Jeff Choquette

#45

Dwayne Buggay

#77

Chuck Barnes, Jr.

#71

Kyle Benjamin

#96

Ben Kennedy

#84

Clay Alexander

#10D

Steve Dorer

#10

Johanna Long

#99S

Casey Smith

#5

Nelson Piquet, Jr.

#2W

Donnie Wilson

#25

Ross Kenseth

#2

D.J. Vanderley

#11

David Rogers

#41

Chris Davidson

#21J

Kyle Jones

#36

Grant Enfinger
Tech inspection will determine if the top 30 are good or not. Altogether 60 cars qualified tonight at Five Flags.
Just got an e-mail from my friend at the Derby and he said Scott Carlson has loaded his Super Late and is going home. Said he has a complete car right now and wants to keep it that way and not run a second chance race. Smart thinking really to keep your car in good shape for 2013.
Your official Pole Sitter… David Ragan
Talked to him for a few minutes today, what a geniune nice guy!! I took this photo during his qualifying run a few hours ago.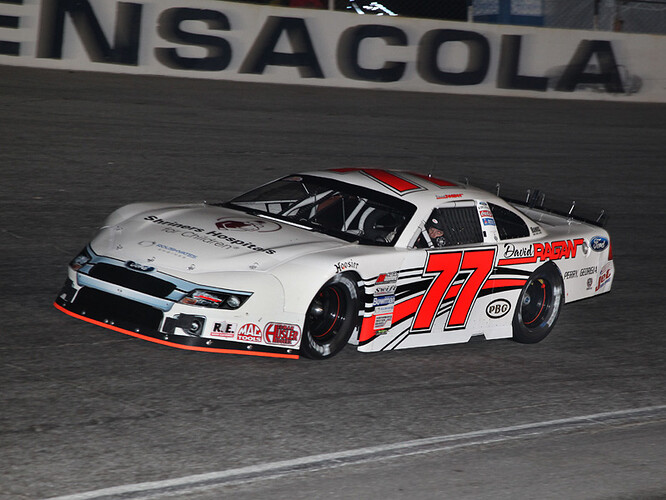 Michael I thought that was you I saw standing by tech earlier today. Look for me tomorrow and say hi. I'll be on Pit Road once racing starts reporting for Speed51.com both days.
Mark,
I will tell my friend who is keeping me updated constantly on the Derby to look for you on pit road. He is a really nice guy and lives right there in Pensacola and never misses any races at Five Flags. At one time he was a Northern Modified driver until he had a bad wreck and decided to cut his car in half so he would not race anymore but he still is very involved in racing. Hope you are having a good time there.