Good job nns on reporting on the red eye so fast. I just wish the race was better
Where did you find them? Went to their site and it shows nothing. Could be doing something wrong. thanks.
The full results are actually already on the NSS website or you can do the Speed51 replay of their coverage… Results for the Red-Eye:
1 51 Stephen Nasse
2 58 Michael Lira
3 84 Danny Foster
4 29 Spencer Davis
5 67 Chad Allman
6 20 Anthony Sergi
7 19 Ray Black Jr.
8 22 Dusty Cornealius
9 81 Anthony Campi
10 26 Travis Cope
11 118 Brandon Johnson
12 11 David Rogers
13 77 BJ McLeod
14 33X Derrick Wood
15 07 Jeff Scofield
16 33 Rick Wood
17 13 Bob Greene
18 27 Cody Lane
19 50 Karl Weber
DQ 56 Gus Dean
DQ 9 Rich Clouser
Dean and Clouser finished second and third but both came up with too much left side weight…
19 cars started (Lane and Weber DNS and the #13 of Greene and the two Wood cars started and parked)
Half the cars were already out at half way… Rogers with a scary fire… looked like a busted fuel line… Cope and Clouser tangled while battling for the lead sending Cope into the inside wall on the front stretch… Scofield and McLeod (in Sytsma's #77) were both out very early… Second 50 laps was just watching cars run around in circles and nobody had anything for Nasse…
The other classes were as expected - 5 Mods, 6 Minis, 9 Super Stocks and 6 Strictlys… Still fun seeing everybody though… Even talked to Kenny Watson, the 1990 OSW LM Rookie of the Year! He was helping B. J. McLeod…
ancrdave, did Kennytell you that he drove for BJ's dad way back then?
Damn motor broke old Dorton Ford from Garunteed concrete days.
The Dotson Construction Buicks at NSS in 1990 with Kenny Watson in 68D and John Josey in 86D… Danged nice racecars!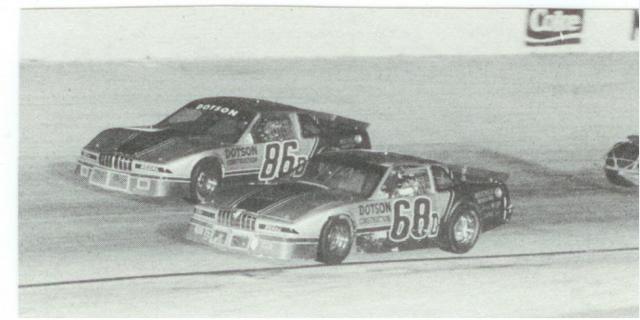 The Dotson Construction Buicks at NSS in 1990 with Kenny Watson in 68D and John Josey in 86D… Really nice racecars!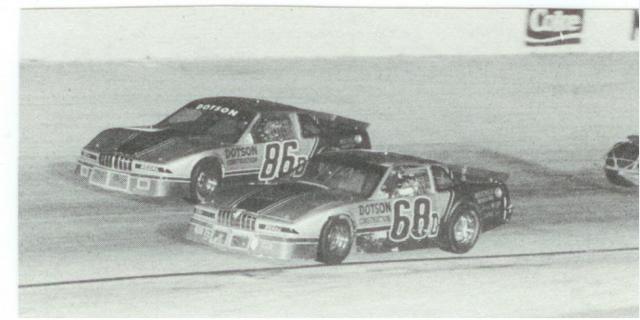 Cool pics I had forgotten about Josey. When Kenny went to a Baretta body in the 78 it was ugly.