Drivers?
Or "race car 'riders'"?
There's a difference.
What? No Johanna Long?
My personal favorite is a local driver from Ellisville(Lake City, Columbia) Speedway.
Kim Alldredge
Age: (she would shoot me)… Young Grandmother
Shown here with her Hornet and went on to be track Champion in 2011 and has started the 2013 season in a new car and looking forward to more wins at Ellisville.
I let her take my OWM for some hot laps last year and she did great… now she wants one…(sorry Randy…lol)
-JIM-
BTW… the young man to the left in the background is her son…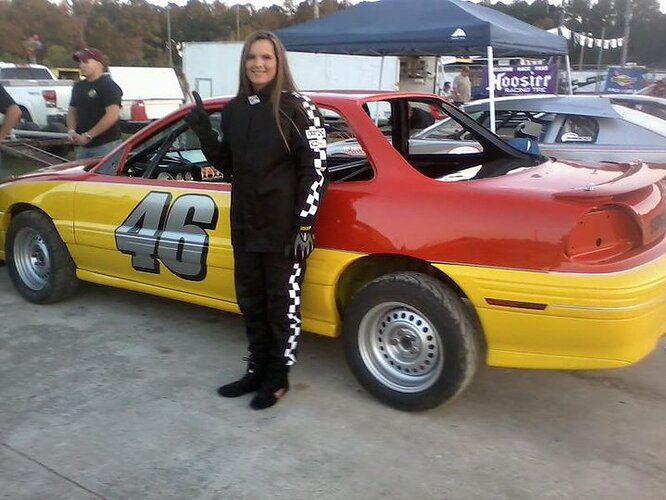 [QUOTE=Jimmy McKinley;126473]Drivers?
Or "race car 'riders'"?
There's a difference.
What? No Johanna Long?[/QUOTE]
Danica better watch out for Shannon McIntosh.
Here is one of the top female racers to ever drive in the U. S. that you probably never heard of with quite a story - PA's Mares Stellfox (pictured with her husband Brett) She started out in Micro Midgets and won the Airport Speedway track championship in 1987… She moved to the URC Sprint organization and became the first woman to win a URC race in 1993… She had already been featured in Open Wheel magazine twice and was about to sign a contract to run a NASCAR BGN car when she got pregnant in 1994… It was a rough pregnancy and during it she suffered from congestive heart failure… She survived and the baby was delivered prematurely but only lived a few days… At that point she gave up on racing, took a job as an office manager, got pregnant again in 1996 and had a healthy baby… Her husband actually convinced her to go back racing in late 2000 and she returned to the URC Sprints where she became a regular winner… This circuit is known for really great competition and 30+ fields of cars… I'm not sure how many races she won before she retired again a couple of years ago because URC appears to not publish any accurate records anywhere… She is now 48 years old but could probably still get the job done… A very pretty woman too!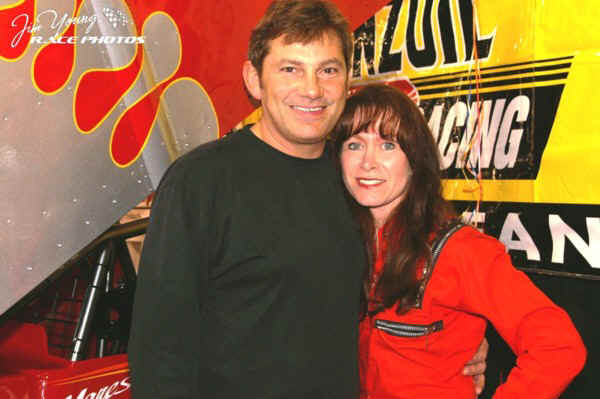 He said "Racecar Drivers"