famous place: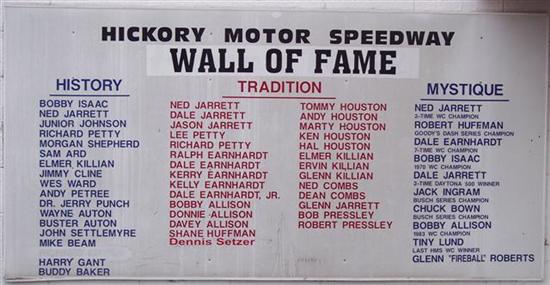 How does Dennis Setzer get his name on there for tradition? Same goes for Shane Huffman.
I think Shane was the son of Robert…made Dennis Setzer's Dad had a different name???
Fantastic looking facility though…
That track is about 10 min from my house. They have some real good LM shows there. I only go a couple time a year for big events…the other weekends i go elsewhere. I went to 21 races last season and was not at any given track more than 2 times…lots of places to race up here.
Setzer was a two-time Late Model champion at Hickory Motor Speedway.
Huffman began his racing career at Hickory Motor Speedway in late model stock car racing. In 1996, he won the Late Limited Model Series championship. In 1999 he won the late model track championship, the Blue Ridge Regional Championship, and was the runner-up for the NASCAR Winston Racing Series Champion.